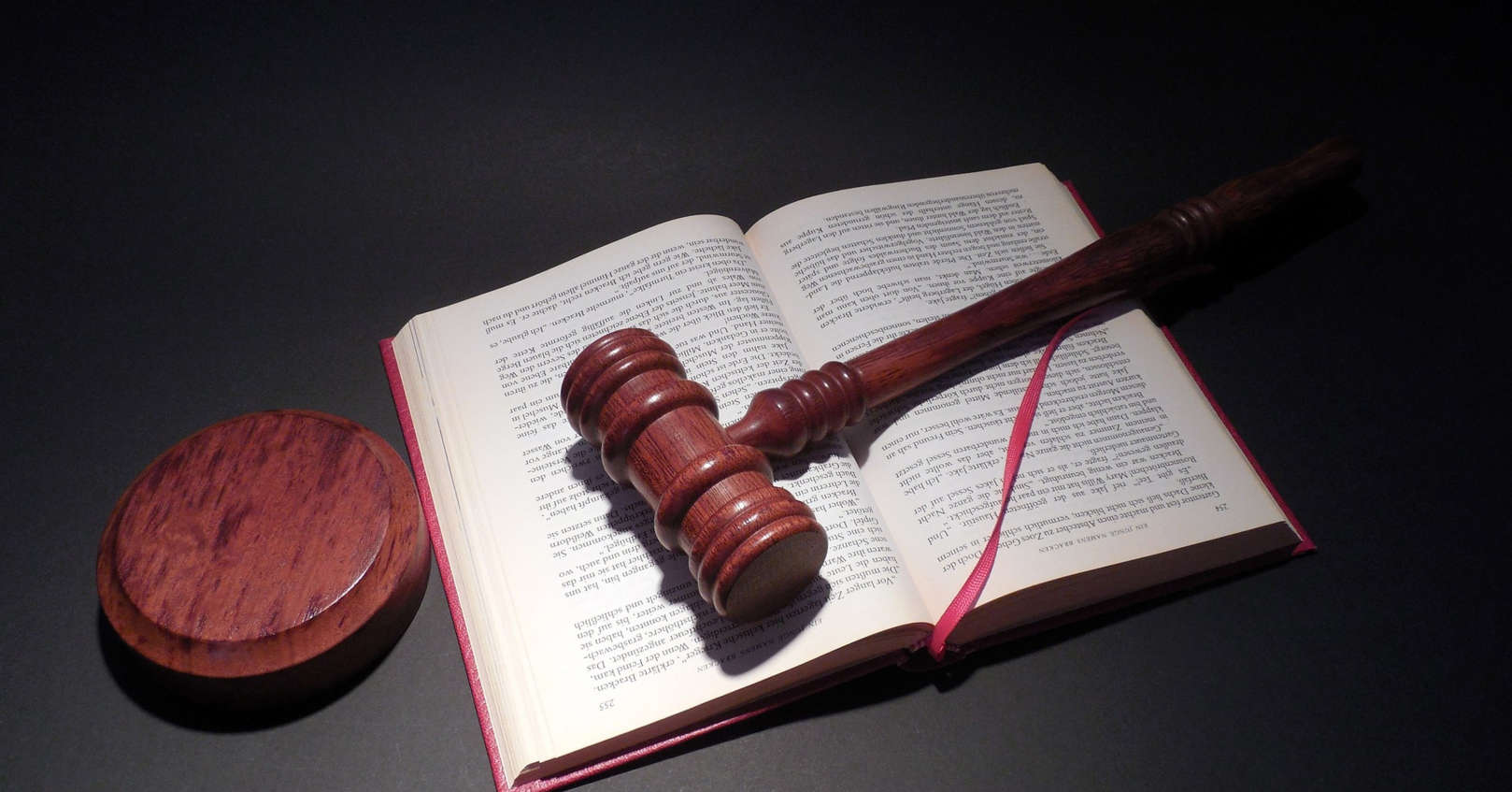 I'm happy to announce that the final chapter in my copyright infringement case against Tiffany Rushton has been written. Three years and eleven months ago, I learned Rushton had used the pen name Sam Taylor Mullins to plagiarize one of my books, and she subsequently threatened and harassed me when I fought for my rights.
In March 2018 after numerous delays and shenanigans pulled by the defense, the judge ruled in summary judgment that Rushton had infringed on my copyright, and with a little over a week left before a trial on willfulness and damages, the case was settled. Below you will find the official document where Rushton admits willfulness and accepts liability to the statutory maximum of the law. You can find Rushton's public apology here.
A win for copyright
While all the funds paid in the plagiarism settlement go to my attorney Shawn P. Bailey for nearly four years of diligent work with very little reimbursement, I feel this is a huge win for me, authors, and copyright. Shawn put in over $225,000 worth of hours into the case, and while the settlement and the earnings on the GoFundMe won't recoup those lost hours, he is grateful to have been a part of bringing a plagiarist to justice. No, he won't be charging me the difference!
However, now that the gag orders have also been vacated on the case, it is sobering to tell you that my book and Chase Weston's real live combat story were not the only stories taken by Rushton. At least two other authors were also plagiarized in Rushton's earlier books. The infringement began with scenes and chapters until finally she stole my entire book. This shows a pattern that I think is pretty common among plagiarists.
Unfortunately, the cost of prosecuting, and the slimy tactics some attorneys will go to in an attempt to free an obviously guilty client means that too many offenses will go unpunished. So we have to look out for each other, because copyright infringement law is next to useless if you aren't rich.
A thank-you
I am grateful for the support of the reading and writing community. For the authors who understand what it means to have a book stolen. Who donated and commented and told me I wasn't alone and that I represented them as well as myself. For the readers who also offered encouragement, donated funds so that my attorney could cover expenses, and purchased my books so I could pay my bills.
I could never have come this far without all of you!
Settlement  in Nunes VS Rushton Copyright Infringement Case
Click here for a PDF of the final ruling, but I've put the jpeg of it below.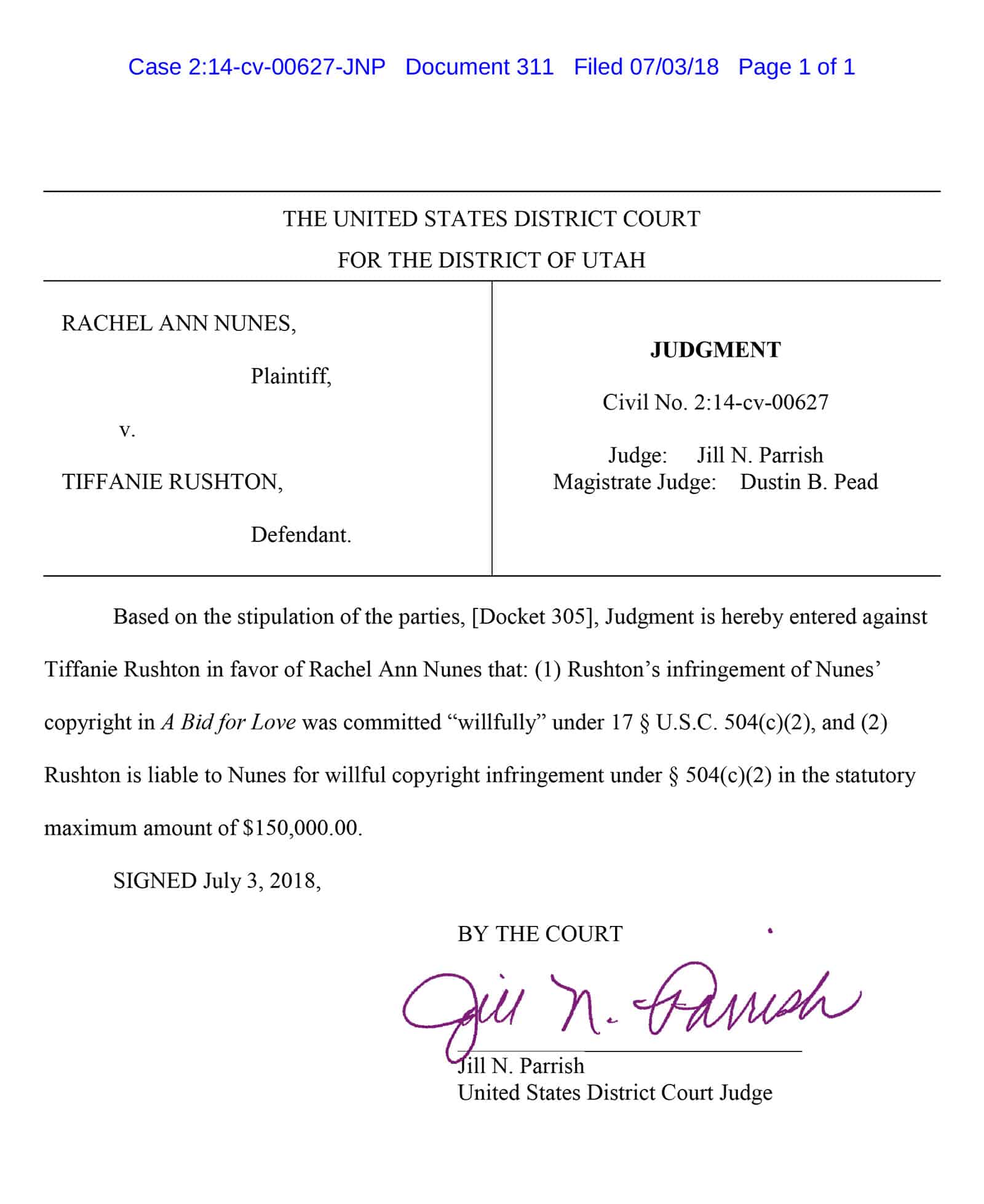 Final thoughts
As I said above, I'm relieved that it's over, and so grateful for the support. But there are lasting consequences. I lost a year of writing, which means three books and the lifetime income from them. I can never get that back. I can never recover the years of incalculable turmoil. When I see strange one-star reviews on my work, I will always wonder if Rushton is up to more tricks. I have also been severely awakened to the knowledge of just how far someone will go to hide their actions. As you can imagine, my trust in people is still not at an all-time high.
But I have already forged ahead. I know there are people out there who are generous, loving, and who defend right. I know because these people supported, loved, and helped me during the past four years. I love writing again, and stories are once again shouting in my head, begging me to put them on paper. After that first lost year, I have written many more books under my pen name Teyla Rachel Branton and am connecting with tens of thousands of readers all over the globe. (If you hop on over to my new website, I have free books available for people who sign up!) Now that I won't be spending time on court appearance and updates, I'll have time to write even more books. That's exciting.
I have refocused my energy on my husband and family and being there for them. I have found balance and happiness. Maybe soon I'll even write another Rachel Ann Nunes novel. But I'm deep into three different pen name series right now, so don't look for it too soon!
Thanks again for your support. I am eternally grateful.

Copyright 2018 Rachel Ann Nunes
Reuse notice: you are free to print for personal use or non-commercial use with friends, share this post link anywhere, quote a short excerpt with attribution and a link to this site, but you may not use this post in its entirety on your own page. Thank you for caring about copyright.