(Note: Written before  Shawn P. Bailey took my case. See that info here.)
This past August I learned that an anonymous author on the Internet, who was known only by a logo and a fake name, had plagiarized my novel, A Bid for Love (formerly entitled Love to the Highest Bidder, copyright 1998). Sam Taylor Mullens published "her" book on Amazon and sent it out to multiple reviewers, some of whom had read my novel. When confronted about the obvious similarities, "Sam" lied and said she had collaborated with me.
Here Is Undeniable Proof She Stole My Book
(also see screenshots at the very bottom of this page)
Rachel Ann Nunes 1998: The dark brown curls were everywhere. They were a curse, and had been for twenty-eight of Cassi's twenty-nine years. They puffed out from her scalp and plunged halfway down her back as if they had lives of their own, helplessly tangled and twisted together. The bathroom lights above the double sink reflected from the brown tresses, bringing out the subtle gold highlights.
Sam Taylor Mullens, The Auction Deal 2014: Dark brunette curls were everywhere. They were a curse, and had been for the thirty-one years of my life. They puffed out from my scalp and plunged halfway down my back. They helplessly tangled and twisted together. The bathroom lights above the sink reflected the brown tresses.
Reviewers Confirm the Plagiarism
As the rights to the book have returned to me, and I indie-published the current version, it is up to me to make sure my copyright is protected.
I contacted first "Sam" for an explanation and then some of reviewers.
Six of eight reviewers confirmed the plagiarism (some of their names have been redacted for their protection, as you will soon see is necessary):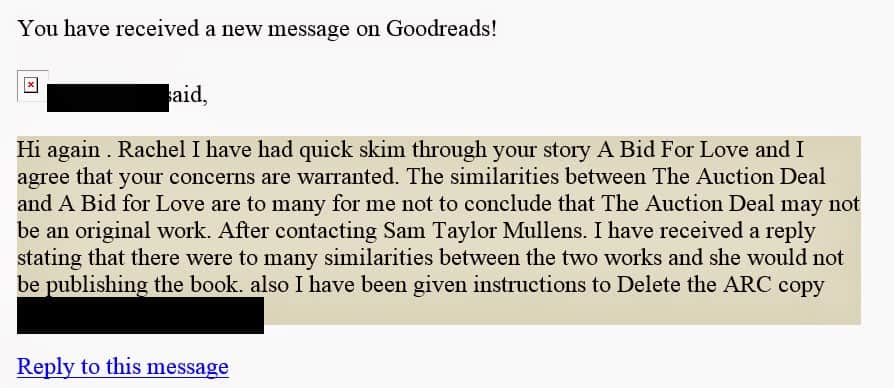 Two Reviewers Later Identified as Aliases of the Plagiarist  Threaten Me and Berate My Work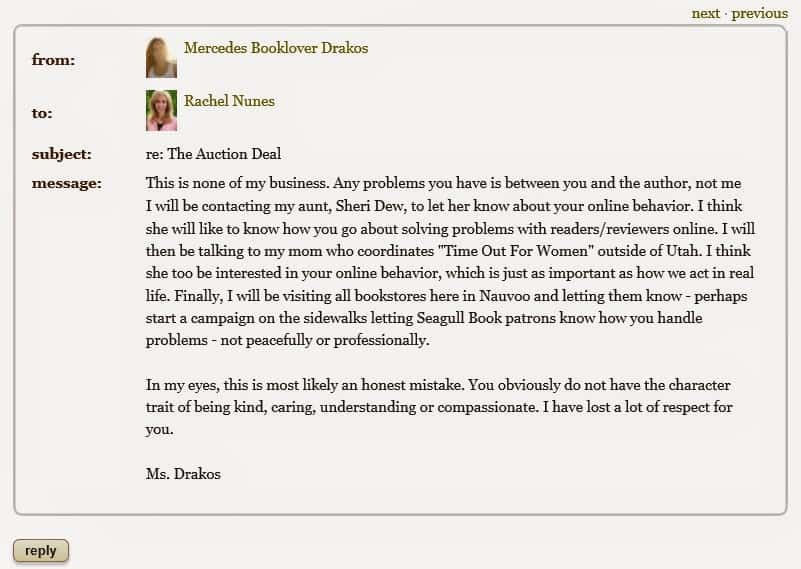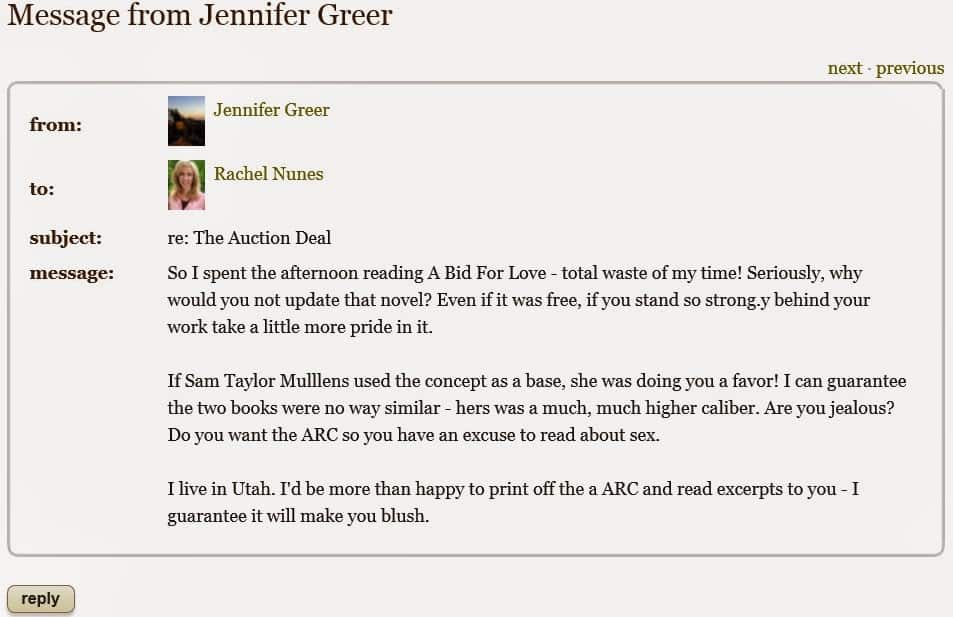 Mercedes and Other Aliases Post Harassing Comments on Facebook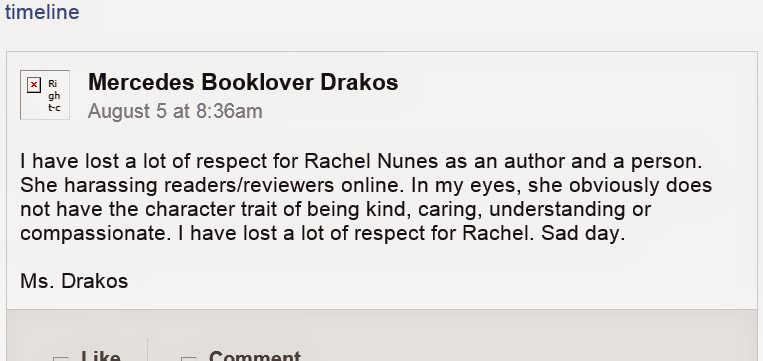 The Plagiarists Denies Everything
"Sam" did respond to my email but said she had no idea how the novels became so similar. She refused to give me a copy of "her" book because it contained sex.
A "Friend" Of The Plagiarist Writes Me
Then I received and email from a real life friend of "Sam," who said that a man, who later died, had given "Sam" the manuscript and told her it was no longer in print. In the email, the friend also praised "Sam," saying that she was a community leader who has a disabled son. (The "friend" was later identified as Sam Taylor Mullens.)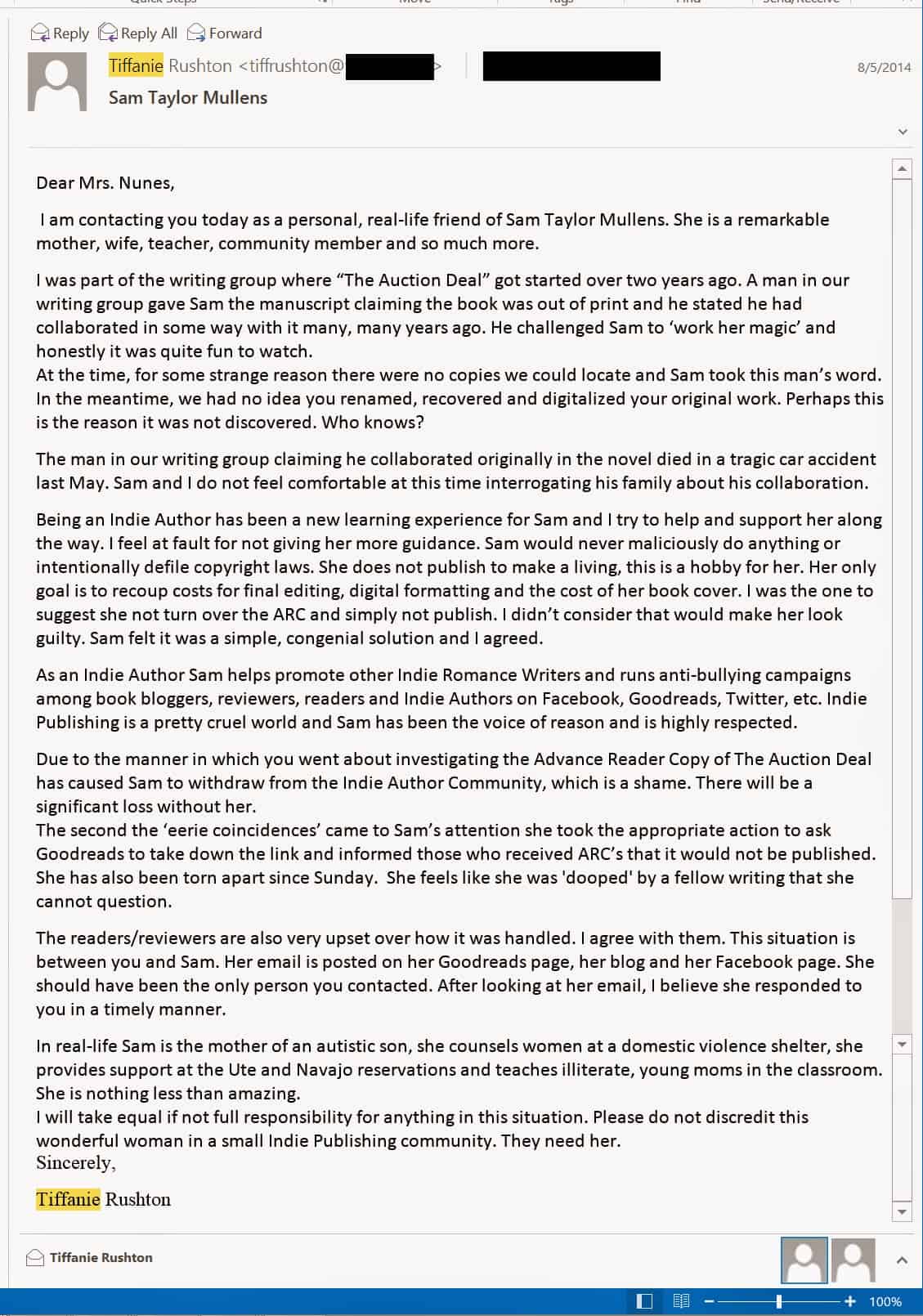 One-Star Reviews of My Book Under Plagiarist's Aliases Shows Intent to Plagiarize
But we found 5 one-star reviews on my stolen book under her different aliases, all dated two months before "her" book was published on Amazon, so it was clear she knew she was plagiarizing. (Emma's last name redacted because it turned about to be a real name that was used by the plagiarist without permission.)
Goodreads: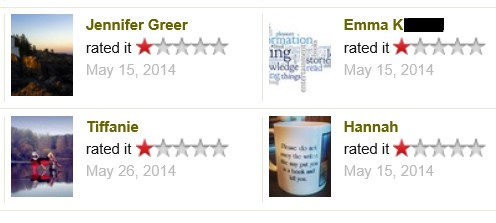 Tiffanie Rushton's Amazon review page:
Plagiarist Lies About My Family

Around the same time, "Sam" emailed reviewers, claiming to be my niece and that she had permission to use my story because she'd given me the idea, but she couldn't tell me who she was because her family didn't know she wrote about sex and she would get kicked out of her church and lose her husband. Meghen from Thirty Second Book Reviews send me this copy.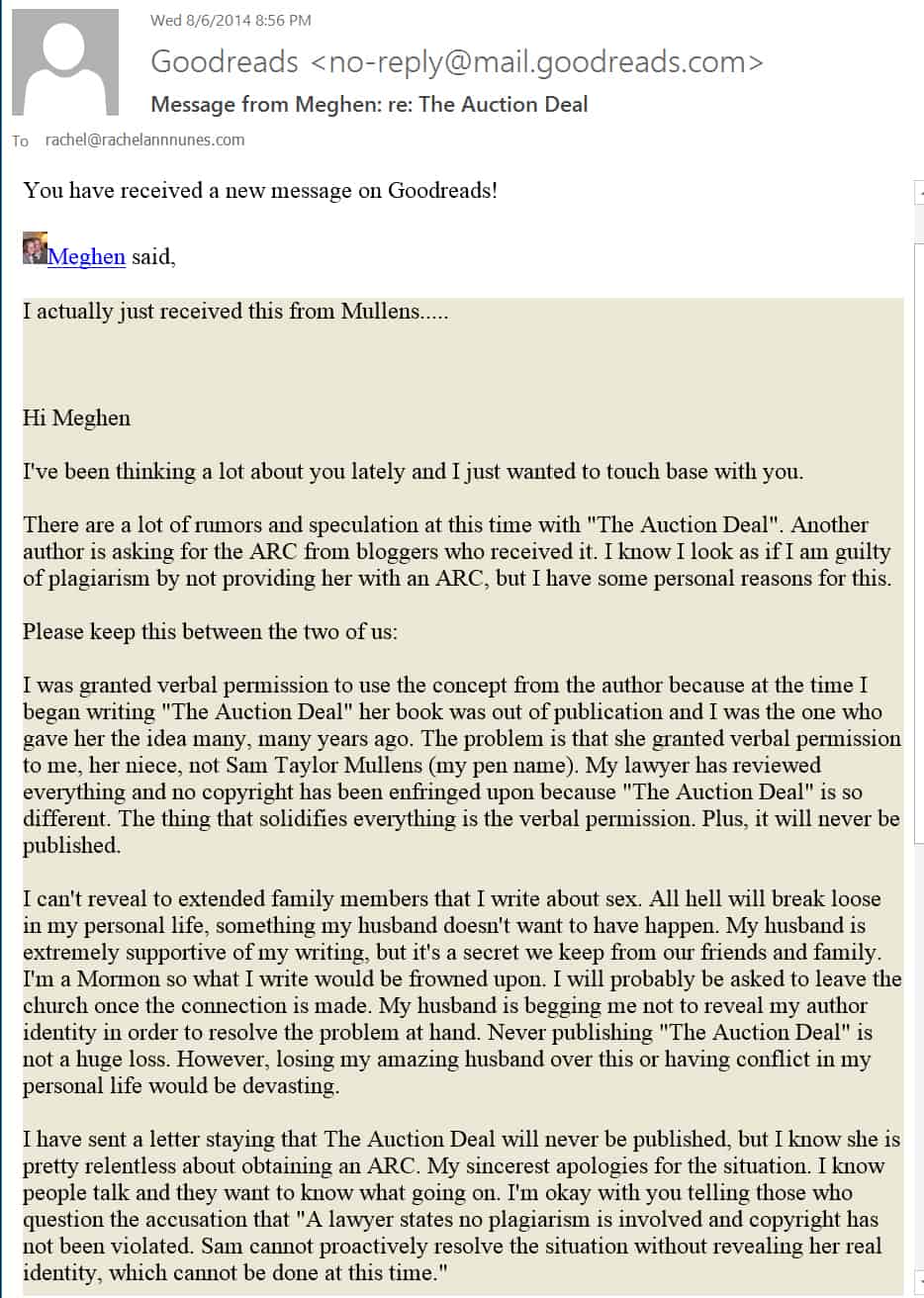 As you guessed, "Sam" and I are not related. To my knowledge we haven't even met. Kira is my real niece.
I went public in order to find out the identity the person who had taken my book. When I did, the harassment increased. Numerous one-star reviews appeared on my novels under my real and pen names (see the screenshots for these below my post). 
Plagiarist Uses False Identities, to Harass Reviewers Who Speak Against Her.

(Last name has been redacted because name belonged to a real person.)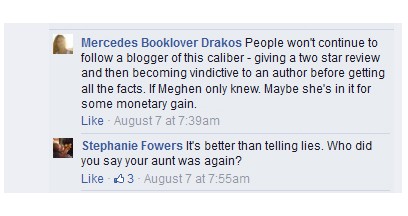 Plagiarist Identified as Tiffanie Rushton, a Third-Grade Teacher from Layton, Utah

Volunteer investigators came forward and tracked "Sam" down.
But copyright is a civil not criminal case and it is horrendously expensive to prosecute. Making her stop stealing and harassing me seemed impossible. Then New York Times bestselling author David Farland recommended starting a Go Fund Me account.
I File Complaint In Federal Court—Harassment Continues
Yet even after filing a complaint in federal court,  the harassment continued. Posts on Facebook continue, public and private. Posts on the Go Fund Me, saying it was a scam—all by Rushton's known aliases. (Name of first redacted because the name was taken from a real person.)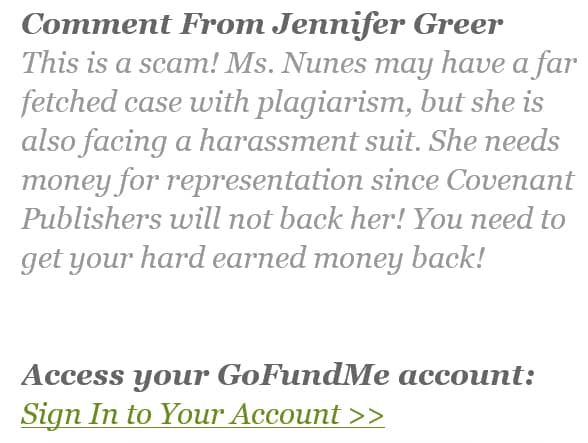 The account below changed from Jennifer Booklover to Jennifer Greer and then was deleted by Facebook.


Rushton also accepted responsibility for the one-star reviews under this alias (part of real person's stolen name redacted).

Every day I am doing something to protect myself, taking screenshots, communicating with attorneys, deleting posts, asking Amazon to take down her reviews, trying to find books to put into fundraising sets, etc. Even when I have a slice of time, working is impossible because of the emotional upheaval. I feel terror every time I turn on my computer for fear of what I would find next. It NEVER stops.
But That's NOT All—She Stole From A Combat Veteran
Then, shockingly, we discovered that in her first book, she'd also plagiarized the REAL LIFE story of Chase Weston, a disabled veteran who served in Iraq in 2005 with the 3rd Infantry Division. His wife Lilah writes:
"The story that Sam Taylor Mullens/ Tiffanie Rushton copied was an account of one of the worst days of Chase's life. The original draft of Terror in a Cloud of Dust was written by Chase during a trauma workshop at 'Pathway Home,' which is a residential rehabilitation program for returning Iraq and Afghanistan Veterans who suffer from clinically diagnosed and progressive PTSD. It took a lot for Chase to put his story down on paper, he did however want to heal from the events and felt that he might help some of the other Soldiers who were trying to do the same . . . My husband feels this to be a personal attack on his character, his service, and to the Military—every soldier and family member affected by these events."
Rushton Vows to Republish Hasty Resolutions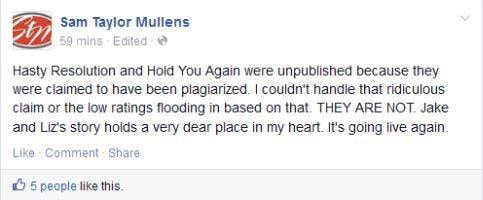 But there was still more to the story.
She Stole From Children
A few bloggers posted a list of 20+ fake IDs that we believed Rushton had created, and a parent identified them as the REAL NAMES of her daughter and the other children in Rushton's last year's 3rd grade class!
Someone compared the yearbook and found twelve full and partial names of real children (mostly full names) had been stolen to review Rushton's novels and other explicit books.
That's why I redacted Abby, Emma's, Gibson's, and Aubrey's last names above. They are REAL CHILDREN, as is Hannah from the Goodreads one-star reviews. One parent claimed that Rushton had also use the children's email addresses to create the accounts (see below).


One parent reported that school officials acted to this latest news (they didn't seem concerned about the copyright infringement), removing Rushton from the classroom, and promising that she would not teach again in Davis County School District.
She Posed As A Parent Of The Children Whose Names She Stole
Days later, Rushton posted on my blog and others, pretending to be a parent of one of the children and asking that all the blogs be removed. But the IP address showed the email came from Rushton's computer. Parents confirmed to me that they did not write the post and that the comments didn't represent their feelings.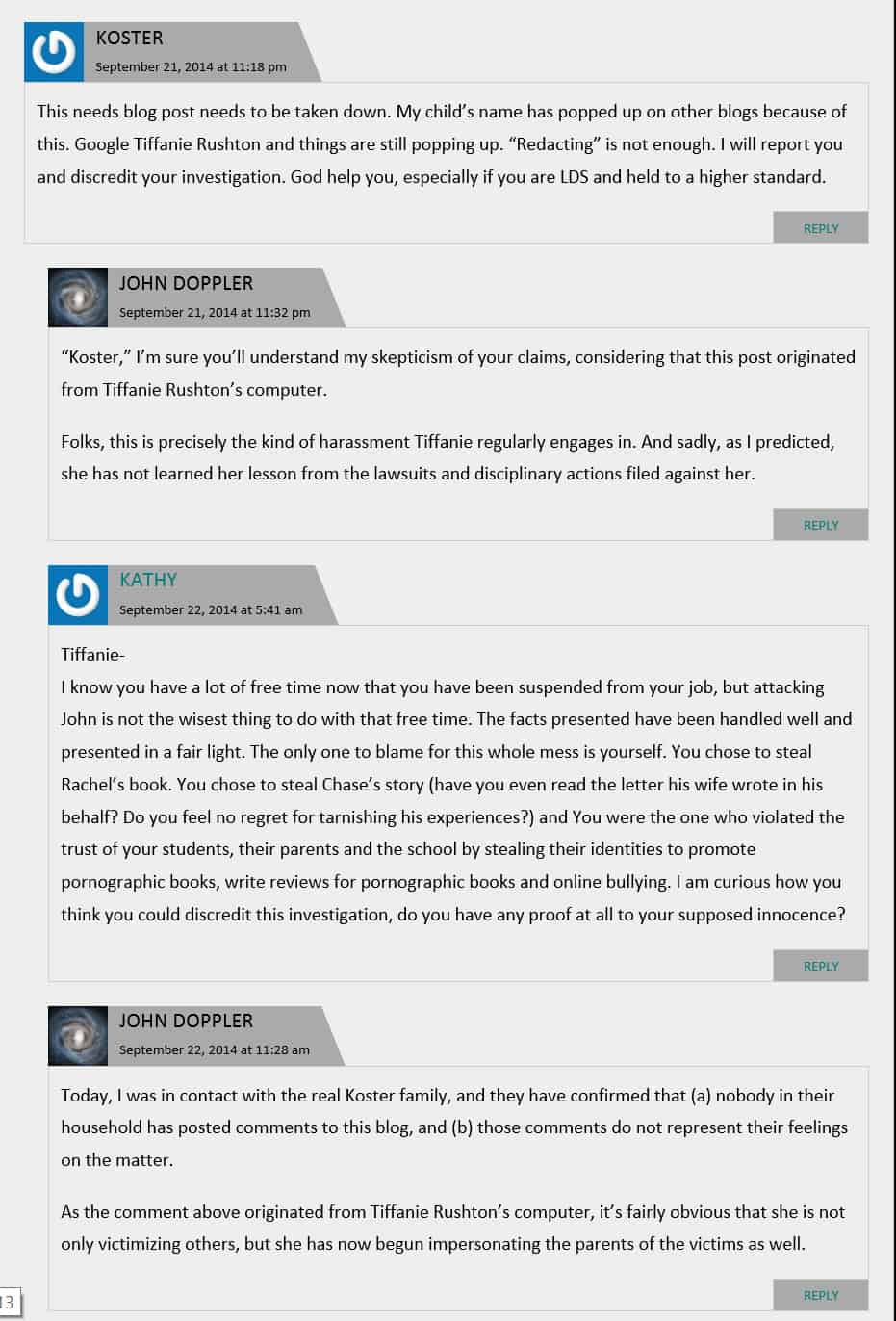 These were fake parent comments posted on my site shortly before and after midnight just prior to the comments on the above John Doppler blog: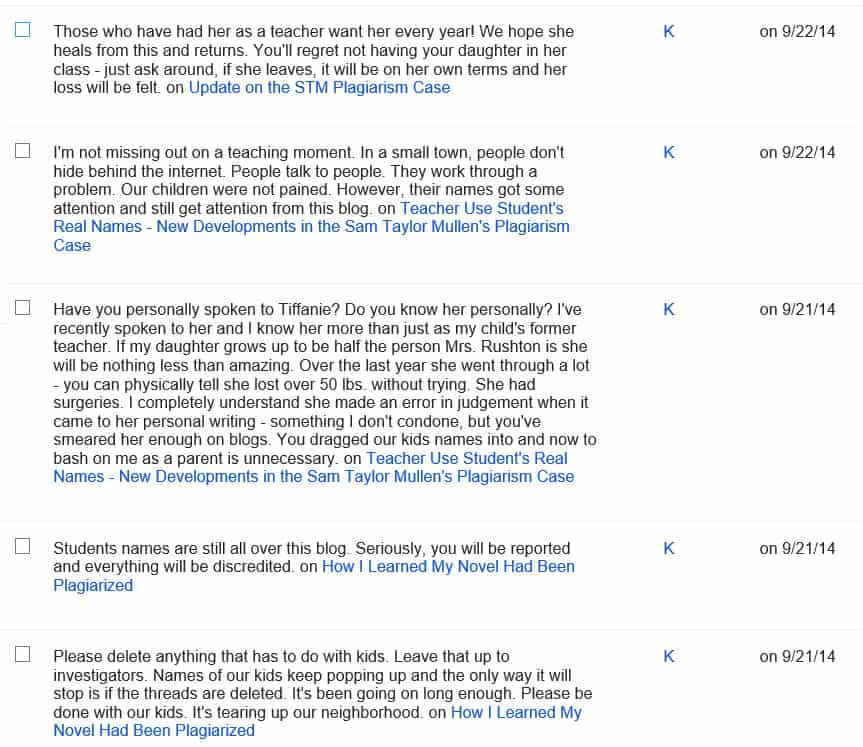 Then A Slap in the Face
The school district came out with a statement that Rushton left due to KNEE SURGERY.

The betrayal I feel that they could cover this up to is so vast, I can't even write it. Makes me wonder if anyone cares about what this woman is doing. And, yes, I have reported it to the police, and I am waiting to hear if they can do anything to stop this.
She stole. She  used children. She used deception and cunning  to cover it up. She refuses to take responsibility. She still won't leave me alone.
I believe in redemption. I believe in forgiveness, but I don't believe that I have to give this person my work or let her attack me. She has turned my life upside down. I feel as if she's broken into my home and stolen something very dear to me. She's tried everything she can to discredit and hurt me. So much time has been robbed from my family, and it doesn't look like there's an end in sight. Three months later and I still haven't been able to get back to work. THAT'S RIGHT. NO WRITING. Which means she's stolen far more than just one book from me. She's stolen my livelihood and my passion.
This comes at a particularly terrible time for my family because in August my husband went part time at his job so that we could start an author-related business that has been horrible delayed because of this plagiarism. The anxiety I feel at the harassment, defamation, and monetary issues has pretty much taken over my life. I don't sleep. I can't concentrate. I suffer daily panic attacks. The biggest devastation of all is that I fear I'm neglecting my seven children. I want my life back!
My Plan to Get My Life Back and Protect Others
If Rushton had plagiarized Steven King, Donald Kuntz, JK Rowling, or Patricia Briggs, she would be in serious trouble from publishers and authorities, but plagiarists know they can get away with victimizing the authors who don't have large publishers or who have yet to become world-wide sensations. The truth is that all authors are at risk, and this is becoming a huge problem. This is a new breed of plagiarist. I want Rushton and other plagiarists like her to know that they can be prosecuted and held accountable.
The only way I have of ending this is going before a judge and jury to show them the evidence and let the judicial system take it's course. Veteran Chase Weston has already agreed to offer any support he can. I have drawn a line in the sand.
No One Can Stop Her Alone
But I have already accumulated a total of nearly $20,000 in legal fees. It will be another $30,000 (summary judgment) to $100,000 (jury trial) at least before it ends. This speaks volumes at the state of our legal system when victims must be victimized again just to set things right. If I drop the case, I believe she'll just publish my book and keep up the harassment. I might as well email her all the rest of my manuscripts. Other authors are equally in danger to plagiarists like Rushton.
All those fake Facebook and Goodreads accounts using the children's real names could also be republished—they were several times during the investigation. We have no way of knowing they are permanently deleted without court intervention.
Even after a successful lawsuit, recovering costs from those committing fraud, I'm told, is next to impossible, but the courts will make her stop.
Please Help Me Stop This Madness 
I need help. 50,000 to 120,000 isn't something a typical author has available in a back pocket. (And other estimates place totals closer to 130,000-250,000.)  I don't have any more money to spend. If Rushton is to be brought to justice and others like her warned, I need your support. Please consider donating a $10 dollars a month until we raise the funds. If you can't, then donate even five dollars to help insure the future of writing and writers across our nation.

At the very least, if you can't donate, please email your friends about this or spread the word via Facebook, Twitter, and other means.  Help stop this!
Thank you for listening,

Rachel Ann Nunes and family
(Hint: I'm the one holding our youngest.)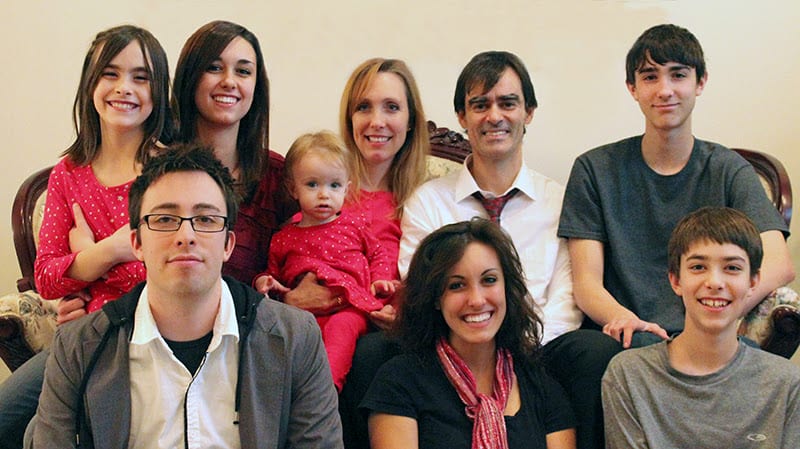 Reviews of my books from Rushton's Amazon account: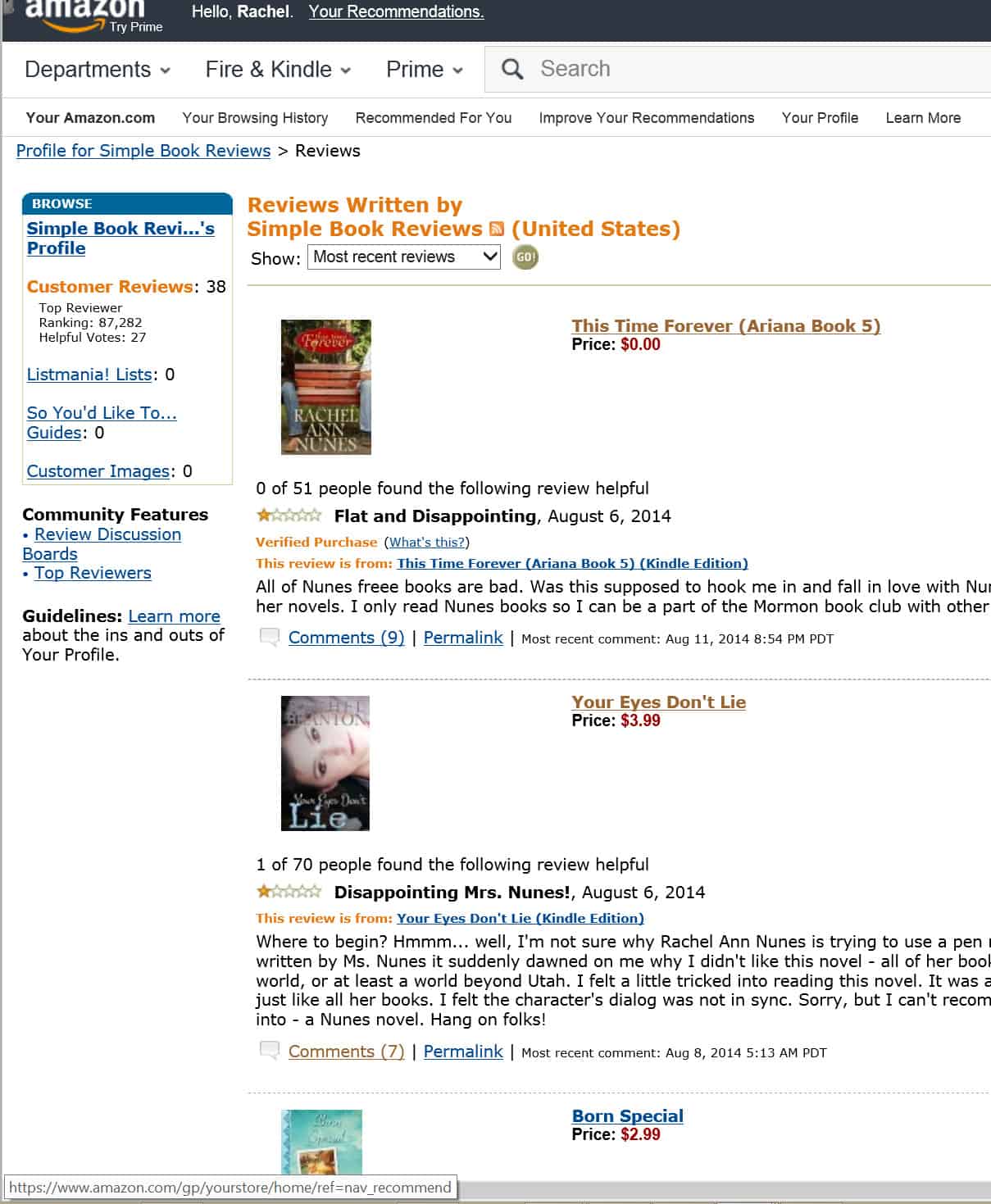 The same account at the same URL as above after the reviews were delete by Amazon (note the brief change to the Jennifer Greer name, the same Jennifer who bashed me as a fake reviewer, on Facebook, and who gave me a one-star review on Goodreads back in May):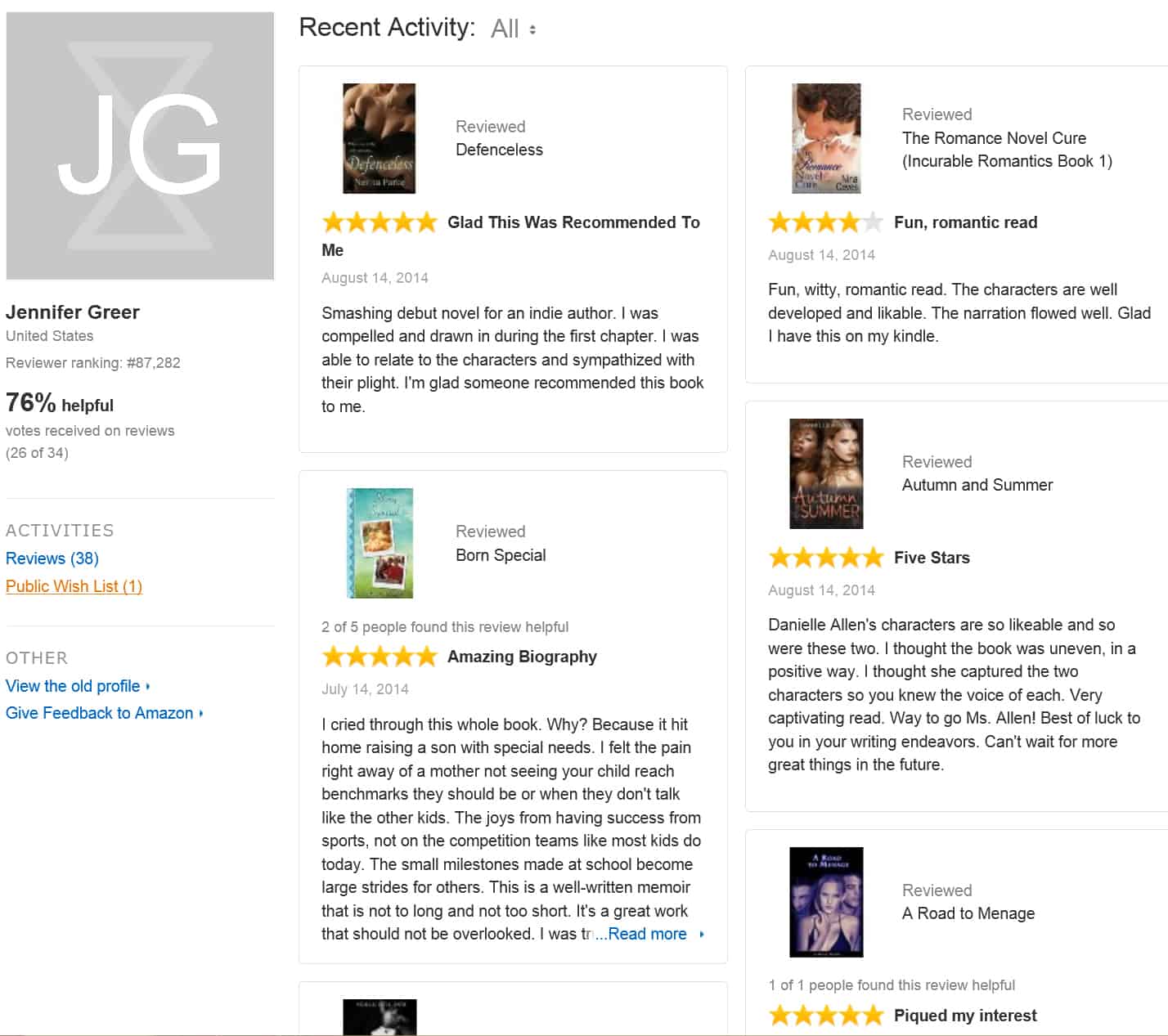 Reviews of my books from one of Rushton's aliases: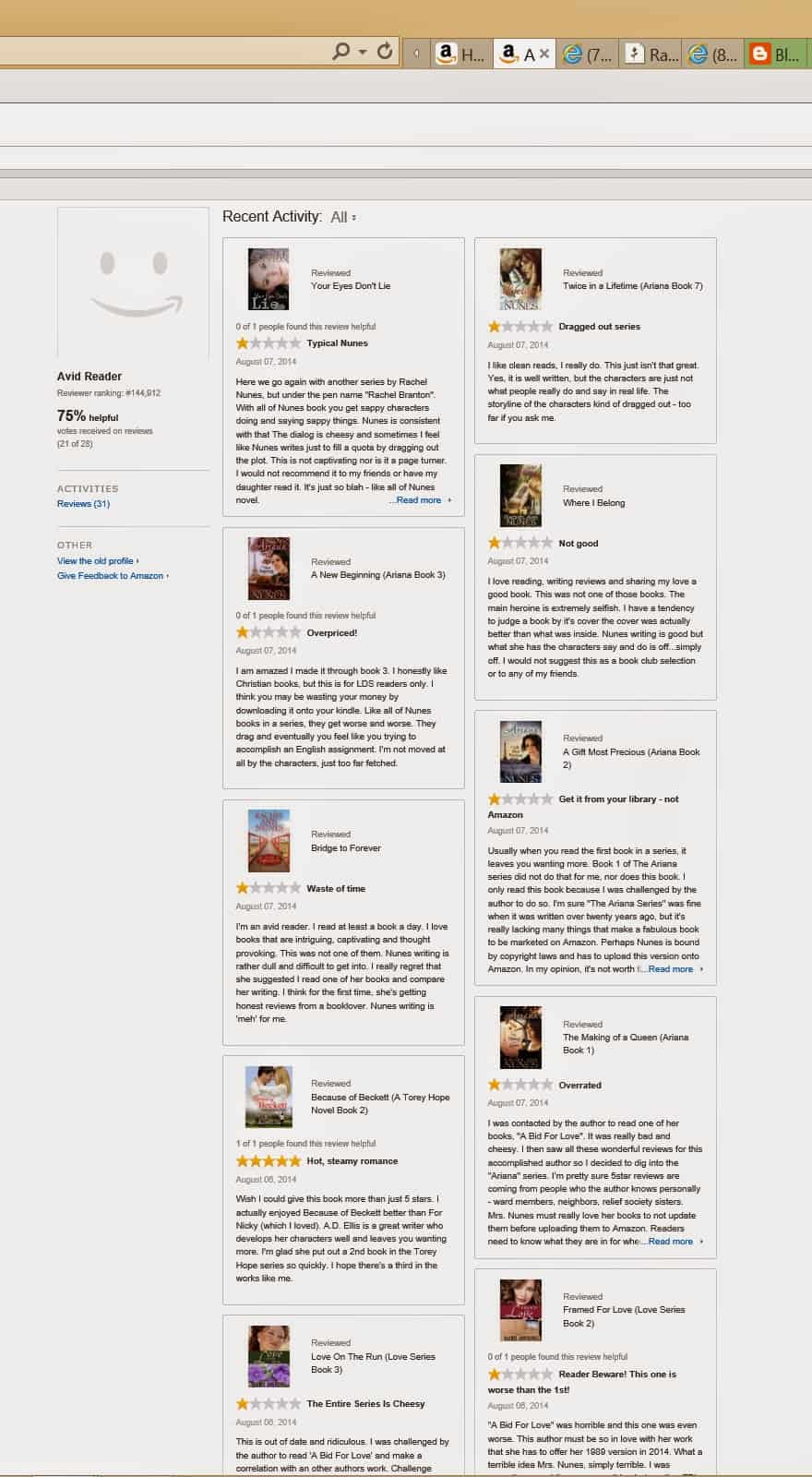 Copyright 2014 Rachel Ann Nunes
Reuse notice: you are free to print for personal use or non-commercial use with friends, share this post link anywhere, quote a short excerpt with attribution and a link to this site, but you may not use this post in its entirety on your own page. Thank you for caring about copyright.