For for fun several authors and I are teaming up to bring you these fantastic and clean eBooks! 🙂 We've got something for everyone! Prices only guaranteed until through February 25, 2015.
Tides Across the Sea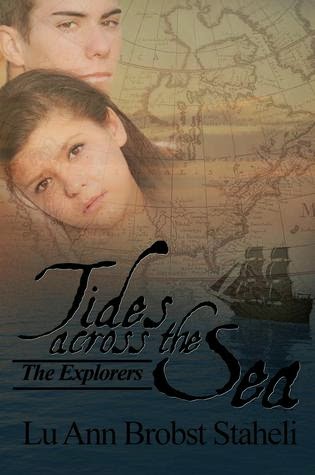 Lu Ann Staheli
Regular price: $3.99
Sale price: $0.99
Set against the background of the exploration of the Aztec civilization, TIDES ACROSS THE SEA, opens in the year 1519, where the passion for adventure and the lust for gold reign in the hearts of both young and old. Fifteen-year-old Felipe is no exception, though his yearning for adventure is tempered by his love for the beautiful Manuela. She wants to marry him, but when Felipe ends up on Cortés' ship bound for the New World, the young couple is pulled apart. Felipe and Manuela each must find a way to overcome the odds stacked against them if they want to someday reunite.
Behind the Mask (Horstberg Saga #1)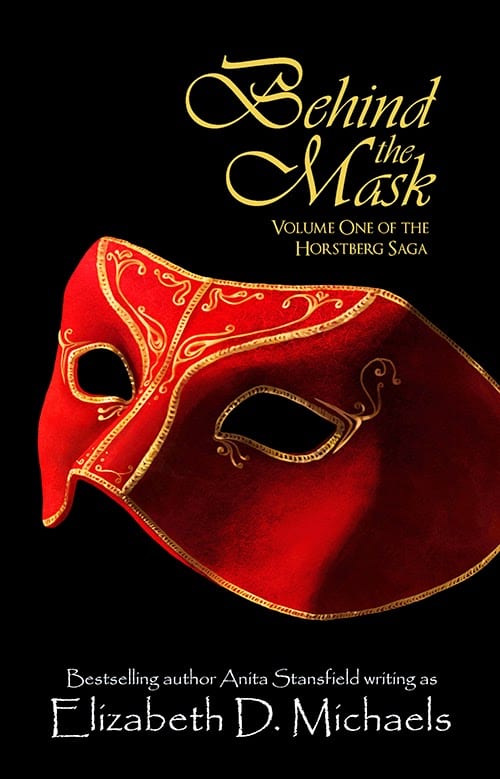 Elizabeth D. Michael (AKA Anita Stansfield) 
Regular price: $5.99
Sale price: $.99
When You're Hiding For Your Life, What Do You Live For?
Abbi has the gift of dreams. But her uncanny ability to see glimpses of the future has no apparent purpose or meaning until a dream leads her to a man on the brink of despair and destruction. Cameron is a man without a name and without a country, framed for a crime he didn't commit. Long ago forced into exile and believed dead, the passing of years have defaced him of all hope. The country of Horstberg suffers beneath the weight of tyranny, and only Cameron holds the secret that could see her ruler undone and restore the people to peace and prosperity. While revolution brews and whispers of treason threaten all that is dear to Abbi, she remains unaware of her own ability to answer a nation's prayers. Trusting only her heart and the power of her dreams, Abbi gives all that she has to lead Cameron back into a civilized world, where love is real and freedom comes only in facing what hides behind the mask.
A Matter of Honor (Horstberg Saga #2)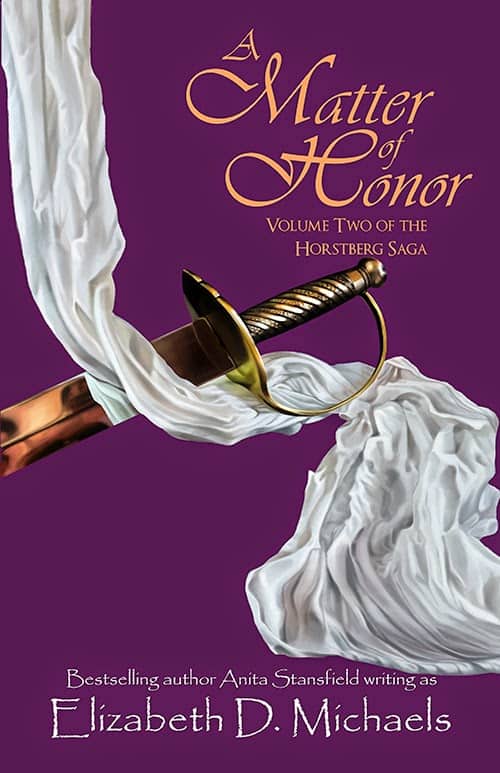 Elizabeth D. Michaels (AKA Anita Stansfield) 
Reglar price: $5.99
Sale price: $0.99
When Honor Means More Than Anything To A Man, Can He Sacrifice His Honor For Love?
Captain Lance Dukerk has no doubt that the only woman he ever loved married the right man—even though that man wasn't him. Yet he longs to have that kind of love in his life and is growing weary of being known as the most eligible bachelor in Horstberg's military force. When poverty-stricken Nadine Rader arrives at Castle Horstberg, insisting that her young daughter is the legitimate child of the duke, it becomes increasingly evident that the deceased ruler Nikolaus du Woernig left a torrent of disillusionment and heartache in his wake. Inexplicably drawn to Nadine, Lance takes personal charge of seeing that her needs are met as she attempts to piece her life back together. Their mutual attraction quickly merges into something profound, until Nadine discovers that Lance's connections to Nikolaus go far deeper than she'd ever imagined, and her budding trust in Lance shatters. Nadine's life becomes more troubling as women who fit her description are brutally murdered, and neither she nor Lance are prepared to face startling evidence that widens the chasm of mistrust between them. While Nadine fights to stay alive, Lance relentlessly tracks the monster responsible for these horrendous crimes, hoping he'll be in time to protect the one woman he knows he can never live without.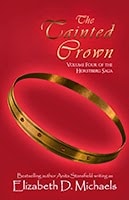 UPCOMING RELEASE ALERT: The Tainted Crown, book 4 in the Horstberg Saga, is now available for pre-order on Kindle. Other platforms coming soon. This is not included in the sale, just a heads-up for fans of the series.
The Superstitious Romance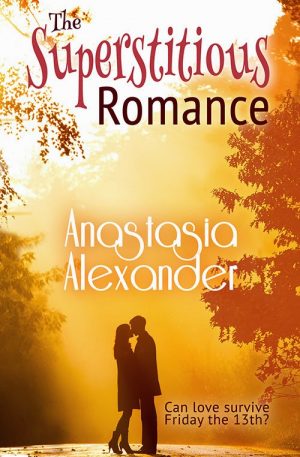 Anastasia Alexander
Regular price: $2.99
Sale price: FREE and $0.99
Kindle (99 cents)
Can Love Survive Friday the 13th?
Friday the 13th has always been unlucky for history professor Camille Britain, and this one doesn't seem any different. In an effort to escape her failed marriage, Camille is renting a cabin in beautiful Island Park, Idaho, where she meets wildlife photographer Jackson Armstrong, who scoffs at her superstitious ways and infuriates her with his offers of help. Camille doesn't need another man—not even one as compelling and attractive as Jackson. Especially when he seems hung up on another woman. And yet Camille can't deny the passion between them or the way Jackson makes her feel. This Friday the 13th upsets both their worlds by forcing Camille and Jackson to see things about themselves, their families, and each other that might—with a little help—change them forever. Maybe this time superstition is on their side. The Superstitious Romance is a story about a strong woman who feels weak, a man who doubts himself, and a powerful love that changes everything.
Birdlegs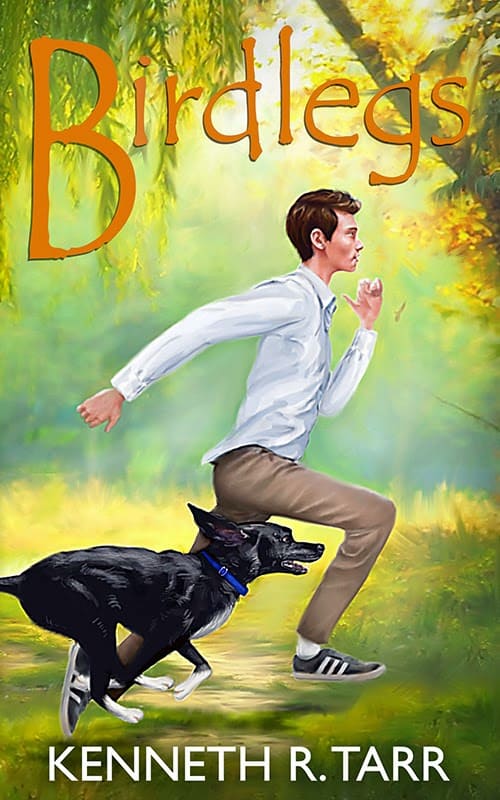 Kenneth R. Tarr
Regular price: $2.99
Sale price: $0.99
Sometimes you have to run for your life
At Lincoln High, Nathan Stewart is practically invisible. The only time he is noticed is when his fellow students need someone to torment. Not only do they call him nerd, bookworm, or "Birdlegs," but they also threaten him with physical violence. The problem has become so serious that two of his main goals in life are to hide his skinny body from his classmates and to escape the constant persecution of the bullies, especially muscle-bound Kit Morrison.
As one of the outcasts at Fremont, Nathan has little hope that the girl of his dreams, Kathy Young, will ever notice him. So he resigns himself to adoring her in secret. The only person who really knows how Nathan feels is his friend in misery, a classmate named Benny Berger, who is hounded and teased for being fat and clumsy. But Nathan has one remarkable ability that has the potential to change everything and win the admiration of that very special girl.
The Change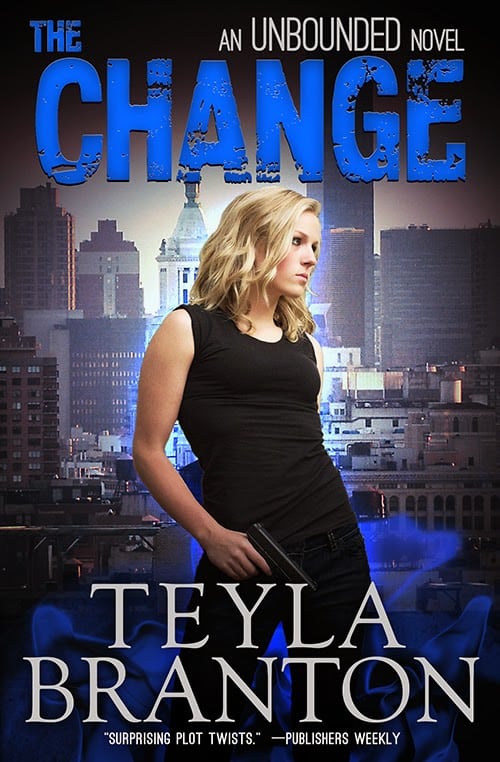 Teyla Branton
Regular price: $4.99
Sale price: FREE
KindleNook
iTunes
Google Play
Kobo
Death, Life, or Love—Unbounded Always Play for Keeps
There are only two ways to kill Unbounded, and fire isn't one of them—as law school dropout Erin Radkey learns the hard way. By fluke of a recessive gene, she has become Unbounded, a nearly immortal being with paranormal abilities.  Erin's Change separates her from her loved ones and alters everything she believes to be true. A week earlier she was considering a marriage proposal; now she contemplates the best way to stay alive. Caught in a battle between two Unbounded groups, the Emporium and the Renegades, she is also hunted by a secret mortal society sworn to eradicate the Unbounded gene. Some will stop at nothing to use Erin as one more pawn in a battle that has spanned centuries. Erin's undeniable attraction to Ritter Langton, whose family was massacred by opposing Unbounded two hundred and forty years ago, complicates her choices. There are no second chances. Death, life, or love—Unbounded always play for keeps.
This Very Moment (new cover!)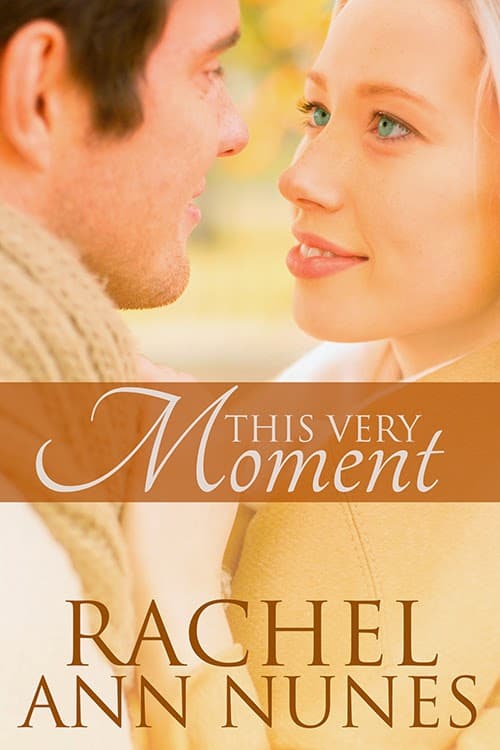 Rachel Ann Nunes
Regular price: $3.99
Sale price: $0.99
Kindle
Nook
iTunes
Google Play
Kobo
A Compelling Story of Heartbreaking Loss, Inspiring Faith, and a Newfound Love Strong Enough to Heal All Wounds.
Bill Dubrey is a sought-after plastic surgeon for LA's prestigious and wealthy, and an equally sought-after bachelor. On the surface it appears he has it all—money, respect, and fame. Yet behind his aloof exterior lurks a tragic past that prevents him from finding lasting happiness.  All that changes on the day Kylee Stewart reenters his life. She alone knows Bill's secret agony, and she is determined to help him face his past. During the years they've been apart, Kylee's own life has been far from easy, but unlike Bill, she has turned to God in her need, finding a faith to which she desperately clings.  The tentative friendship they begin has Bill rethinking his stark future, yet he keeps his heart in check—afraid to commit, afraid to lose again. During Kylee's darkest moment, when she needs him most, will he be there for her?
Midian, A Kilenya Romance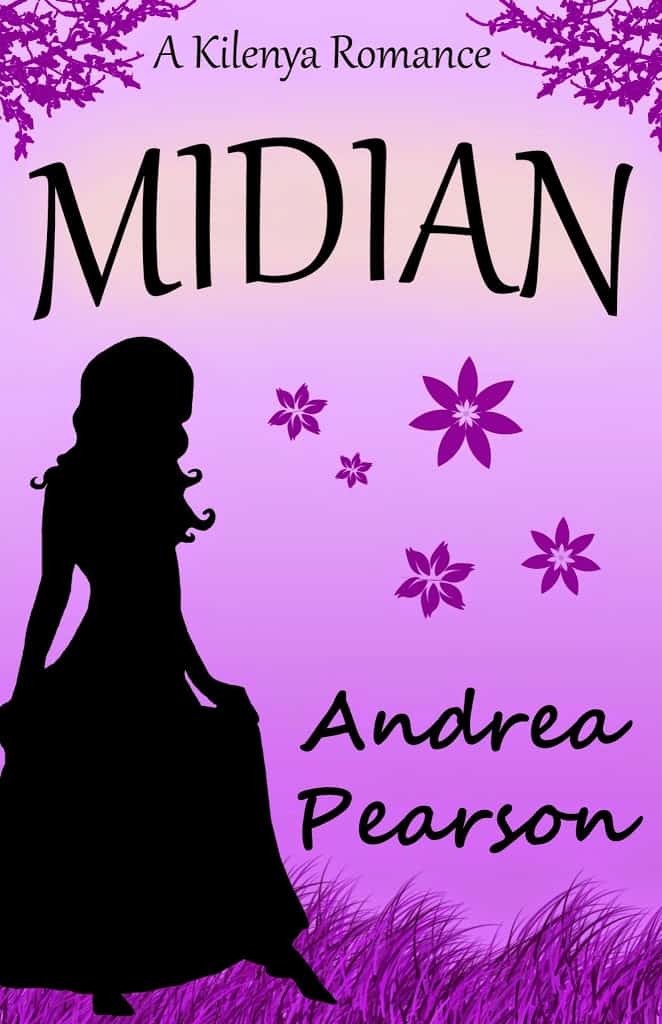 Andrea Pearson (new release!)
Regular price: $2.99
Sale price: $0.99
Midian has lived in Gevkan Castle for almost all of her twenty-five years, growing up alongside Princess Arien. Though timid, she's content in her life and comfortable with the people who surround her. It's not until she meets Kelson, best friend of Prince Dmitri, that she realizes how deep her shyness runs. Kelson is outgoing and wildly flirtatious, pushing Midian away when all he wants is to draw her closer. Midian's life is put in danger when she's kidnapped by the neighboring king who thinks she's the princess and wants to leverage her life for power and money. Will Kelson be able to stop the king fast enough, proving his affections for Midian, or will the king's scheming keep them forever separated?
The Manor  (A Katon University Novella)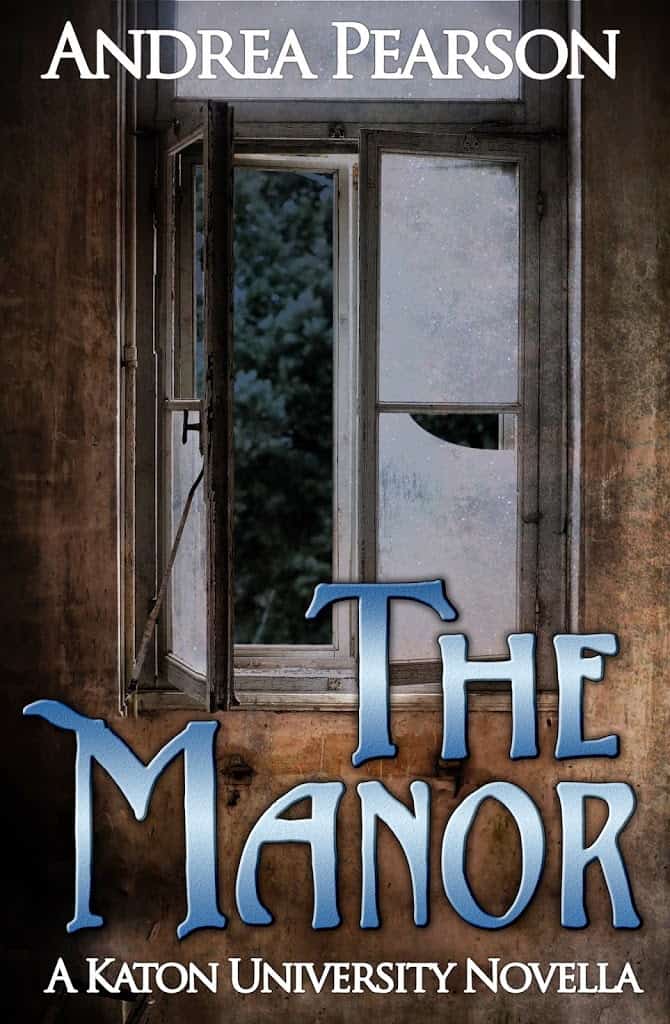 Andrea Pearson
Regular price: $2.99
Sale price: FREE
Austin receives a photograph in the mail and quickly discovers something about it isn't quite right: every time he looks at it, there are changes.
And the changes aren't good.
The Angel (A Katon University Novella)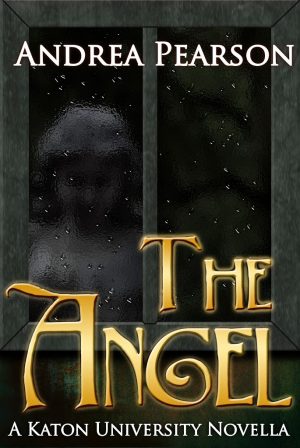 Andrea Pearson
Regular price: $2.99Sale price: FREE
Kindle
Lizzie doesn't know the old whistle she found in a deserted trapper's cabin is possessed. She blows on it, accidentally calling back the spirit of a dead goddess consumed by the desire to snare the person who called her. When the goddess arrives in the form of a statue, the stillness of Lizzie's mountain retreat is destroyed.
Bless Your Heart: Low-sodium Recipes for a Heart-healthy Lifestyle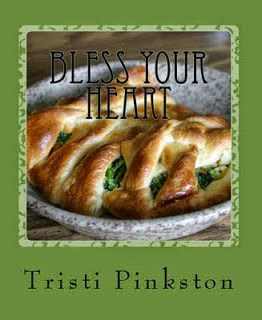 Tristi Pinkston
Regular price: $2.99Sale price: $0.99
Kindle
Tired of bland, boring low-sodium recipes? Tristi Pinkston brings some spice back into the kitchen with this huge collection of recipes designed to show your heart, and your taste buds, some love.
Season of Sacrifice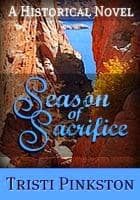 Tristi Pinkston
Regular price: $2.99Sale price: $0.99
Kindle
Sarah Williams is a young Welsh immigrant, coming to Utah to join her sister Mary Ann Perkins and her young family. When the Perkins' are asked to join the San Juan mission to pioneer a trail through Southern Utah, they take Sarah along to help care for the children. But a six-week journey turns into six agonizing months of hard work and toil as the Saints blast their way through a cliff to bring their wagons through what would become the famous Utah landmark "Hole in the Rock." This LDS historical fiction novel is based on the life of the author's great-great-grandfather and accurately depicts the experiences of these intrepid pioneers as they sought to be obedient to a higher call.
For Love or Money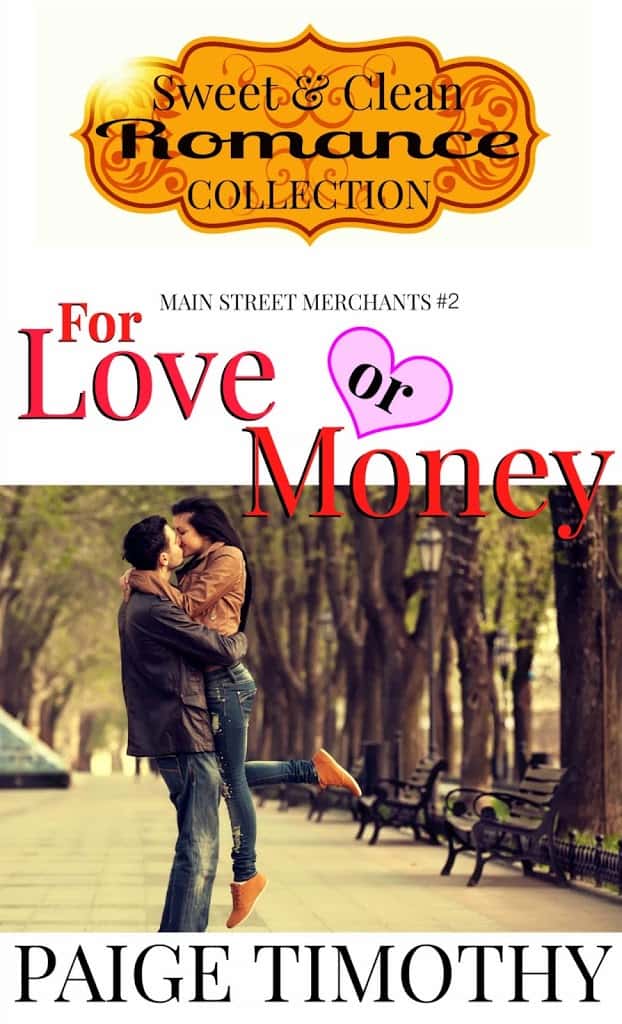 Paige Timothy
Regular Price: $2.99Sale Price: $0.99
Kindle
Cynical Morgan has just about decided that no one could possibly fall in love with her – all the good guys want perfect girls, and she's anything but perfect. But then along comes the guy who falls head-over-heels in love with her just as she is and helps her find the bright side of life again. This is book two of the Main Street Merchants series – book one, And Something Blue, is already just .99 all the time.
 Aliso Creek Romances Box Set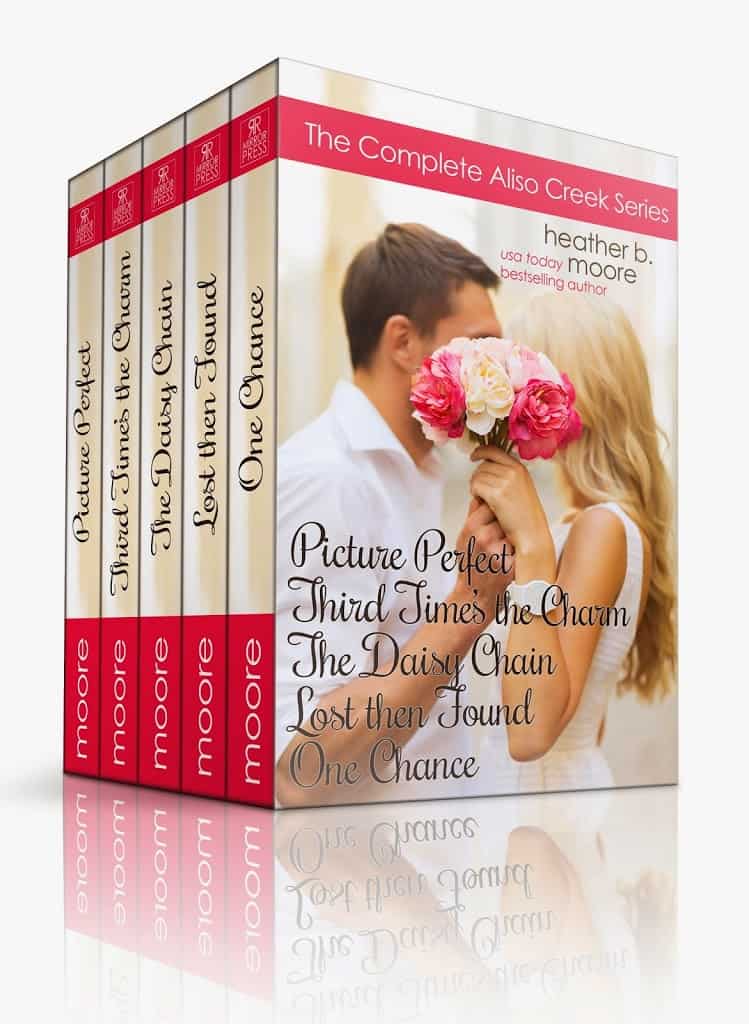 Heather B. Moore
Regular Price: $4.99Sale price: $0.99
Kindle
Welcome to the Complete Aliso Creek Series Box Set:Liz, Gemma, Arie, Jess, and Drew have been best friends since creating the "Five" at Aliso Creek High School. But that was over ten years ago, and each is still trying to find that perfect someone . . . if perfect is even possible.
HAPPY READING!